Home of the Great American Yard Dog.

Stroll Down for Photos of My Happy Dogs .....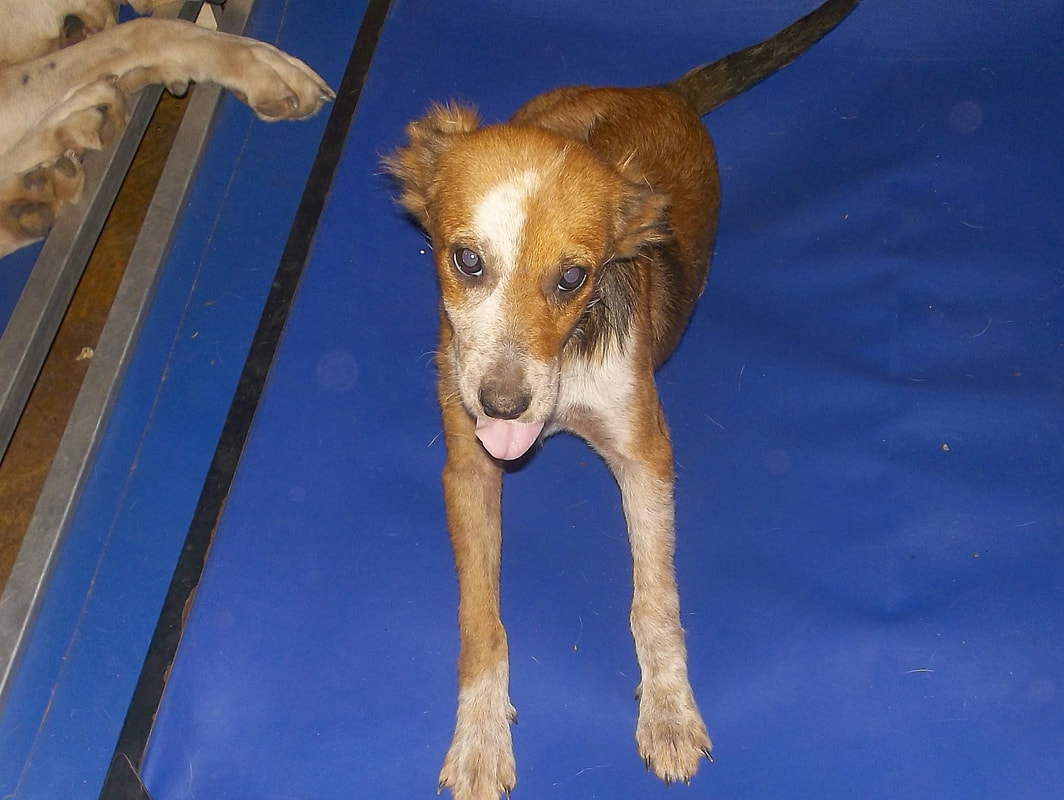 ---
This is what happens when visitors come inside my rescue, they get eaten by my dogs lol.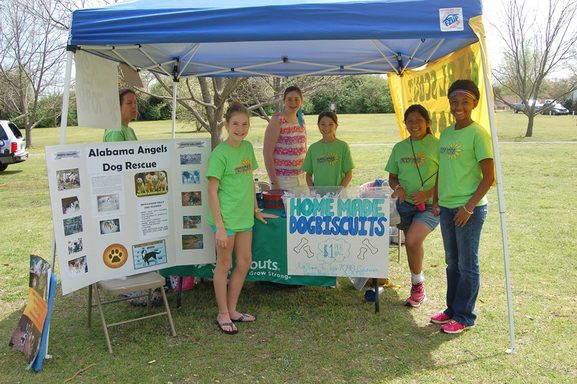 A very Special troop of Girl Scouts Troop 7098 from Auburn Alabama on 4-5-2014 they worked hard baking dog treats and making posters to raise money to buy Dog Food for My Rescue. The parents of these sweet kids raised them right. Gods Blessings to all of them a
---
This senior dog was left to starve when his owners left the trailer park he was living in and the scum humans that lived there refused to feed hi. I rescued him just in time.....After 5 days on the lower photo he is doing much better...Hes safe here, all the food he can eat and knows hes loved...Hes such a super sweet old guy.. rescued 10-28-17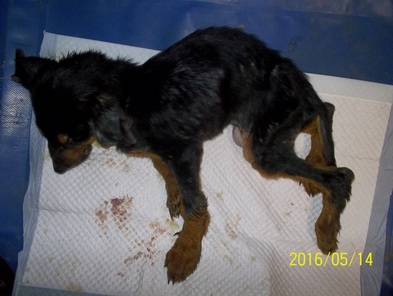 ---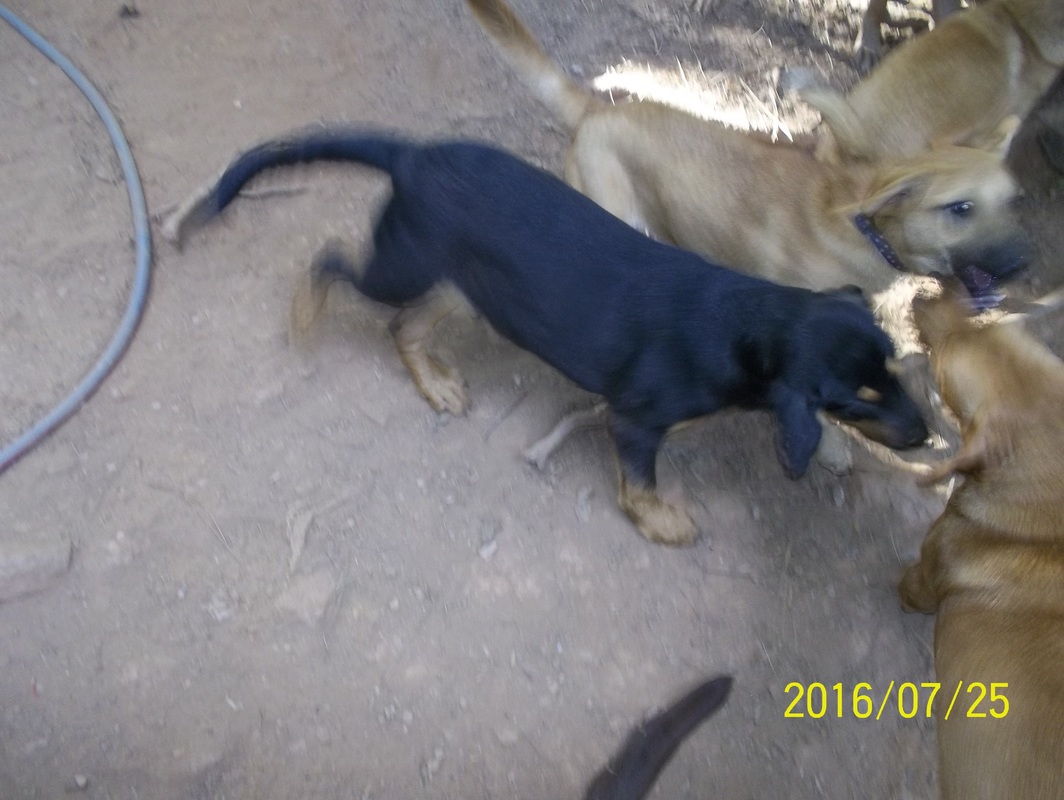 ---
The Puppy I named Frank that almost died is doing great after 17 days of TLC here..(Below)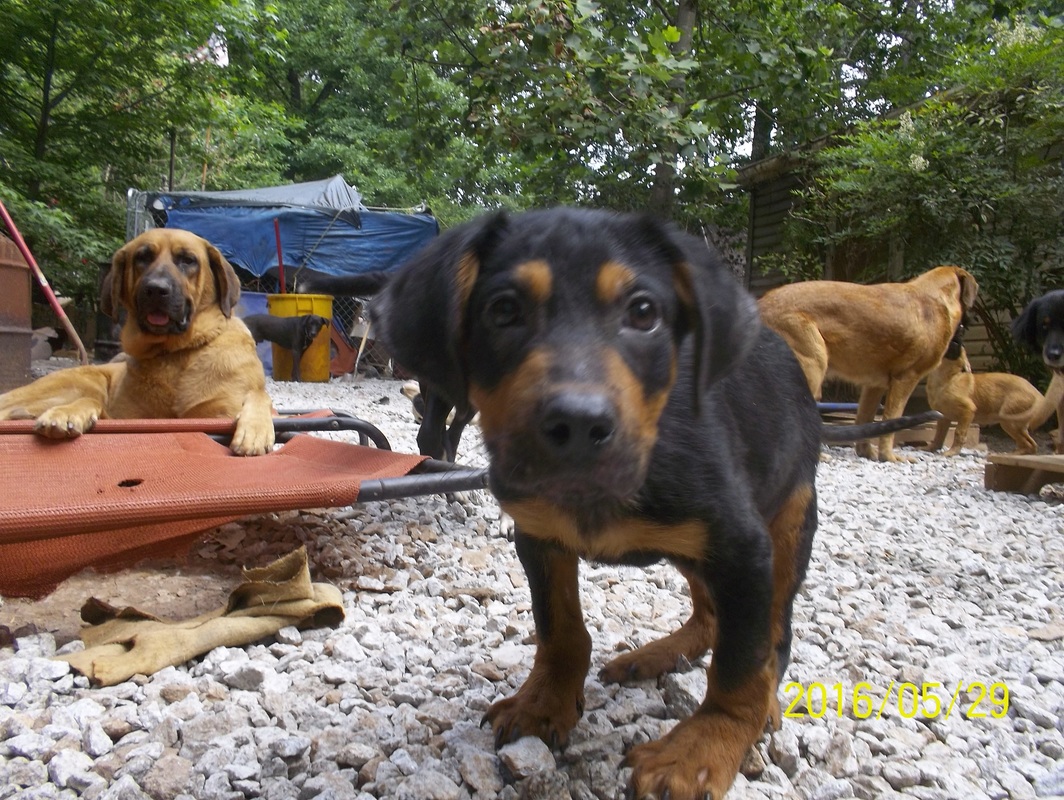 ---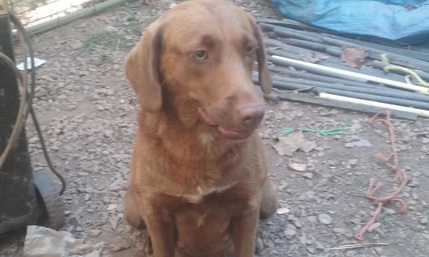 this sweet choc lab was dumped at a local jacks hamburgers here. been living there for 6 months..I rescued her yesterday due to no one else would save her. shes preg. so she will have her pups here. 10-3-16
---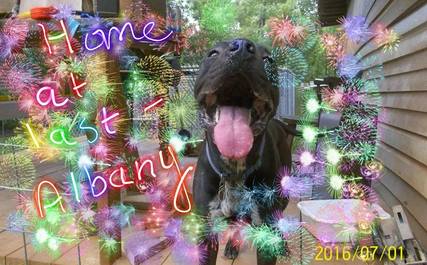 ---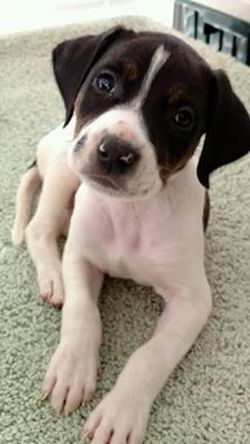 This puppy was rescued by My handy Man on 6-31-16 the same day I received Albany dog above from the nice transport Ladies that drove him all the way from Florida to me here in Alabama...This sweet puppy boy had a busy day here...He played all day with the big dogs here, ate all the food he could possible eat lol and then the transport Lady Karen David Keen took him home with her to be sent up to New England to a rescue she works with there to be adopted....He was a pleasure to be around only for a few hours...Have a great life little puppy boy...Gods Speed..
---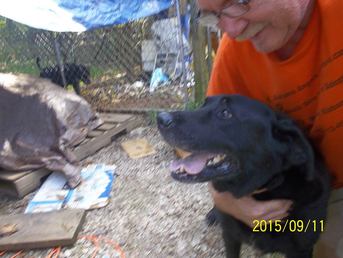 ---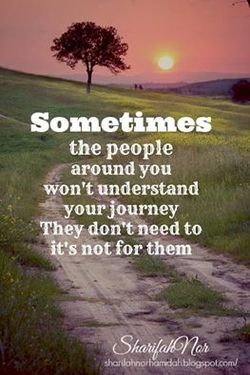 The photo above and below is My Sweet Maggie Girl...I rescued Maggie at age 12 after spending her entire life loving her peoples and because she got old they were going to dump her in a Kill shelter...I ws blessed by God to have her in my life for over 2 years here...She died peacefully of old age here at home two days ago 8_15-16 with me holding her head and all the dogs here surrounding her .She was one special sweet soul...Gods Speed sweet girl, I will see you again when my job here on earth is done...Thanks for loving me from day one. Run free at the bridge and kiss all my other dogs up there for me.
---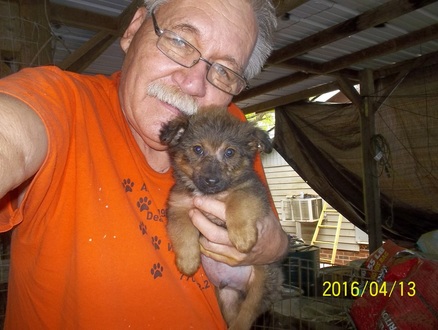 This sweet little boy about 6 weeks old was dumped at my gate today...He's super smart, knows what a dog house is and is not scared of the 71 dogs here...I wormed him, gave him some HW meds for a small case of Dem mange and hes sleeping peacefully...Loves to give kisses....
---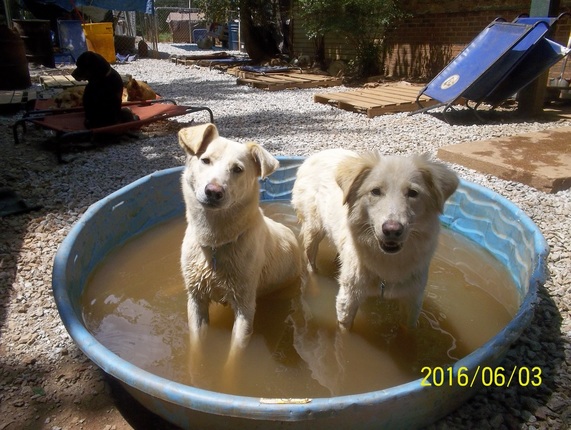 ---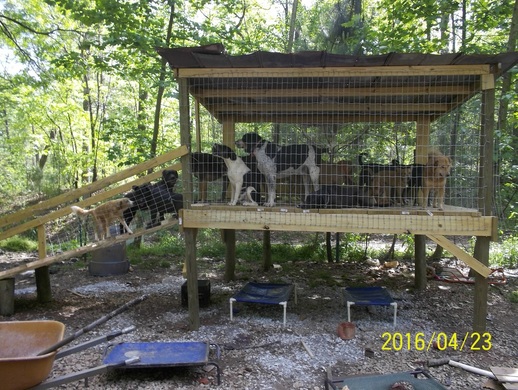 I built the dogs a doggy tree house/play house ..They love it being so high.
---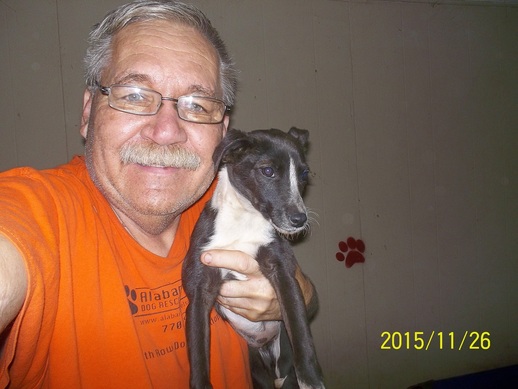 ---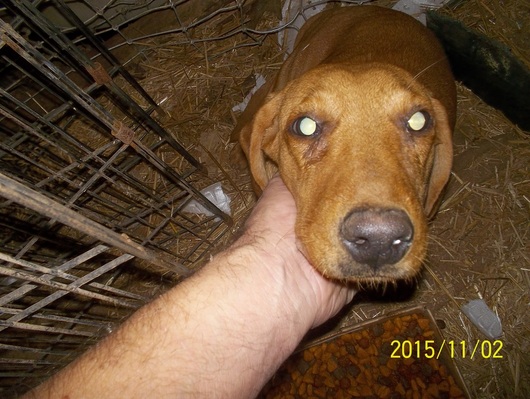 ---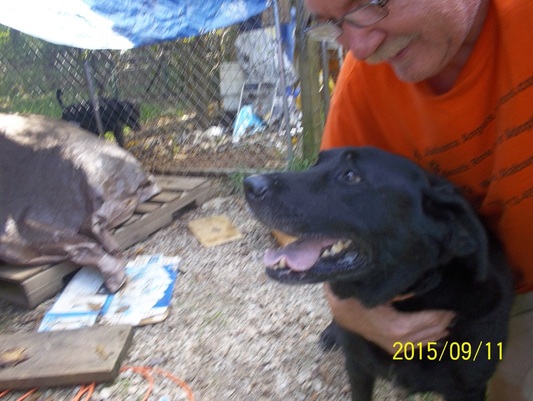 ---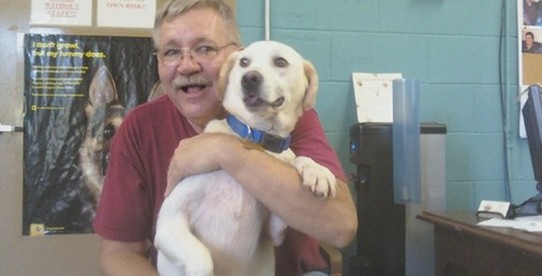 With a Heavy broken Heart I lost one of my one in a millian rescued dogs 6-26-15..I rescued Bo , this photo was taken at the Jasper co Ga dog pound the day I rescued him..Bo and me bonded that minute and for almost 5 years from 8-2-10 he and I were Best friends. He just walked in the house and fell and could not stand up..He was taken to the vet the next AM after I stayed up with him all noght in a chair iext to him giving him pain meds and water etc. Bo was a super special dog...Was always one to welcome the new rescues and tell them they were safe now and that they would be loved here....After many test and 8 hours at the vet Bo took a turn for the worse and we had to stop the pain and PTS. A big part of my heart went with him...Test showed that his stomach came loose and twisted called Dog Bloat...Its very common but the first time its happened here in 7 yrs of rescuing. Its never going to be the same here without his smile ...He always smiled every time he seen me....The photo below is my favorate photo of Bo the way he always sat with his right rear let up in the air..Gods Speed Bo, Run and have fun at Rainbow Bridge until I get there to be with you and all the others from here. I love you, love, Paw Paw. Thanks for always being such a good dog and loving me from day One.
---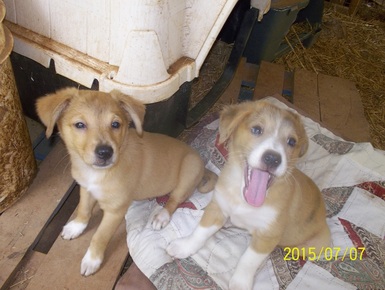 ---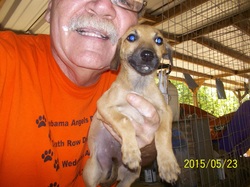 One of the 4 pups below,,,
---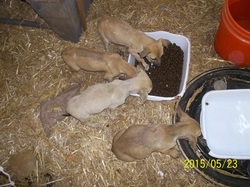 Rescued 4 little puppies 5-22-15. Gonna be small dogs...Very sweet, belly full of worms..I wormed them and after 3 days already running around with the big dogs....Not on adoption page due to these puppies are going to a rescue in NH that has extremly goos adoption program.. 3 girls and a boy...
---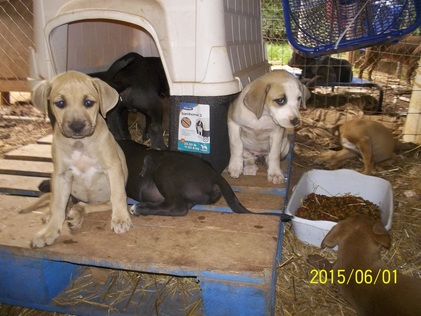 on 6-1-15 I rescued 8 lab mix puppies..3 boys and 5 girls. 8 weeks old...6-2-15 I gave them their 1st parvo 5n1 shot. Wormed them yesterday with safeguard worm meds. Real sweet puppies...They will be going to Live and let live rescue in NH on July 4th. They will fine them wonderful homes up there. I have sent 14 pups there in the last 3 mts and all were adopted...
---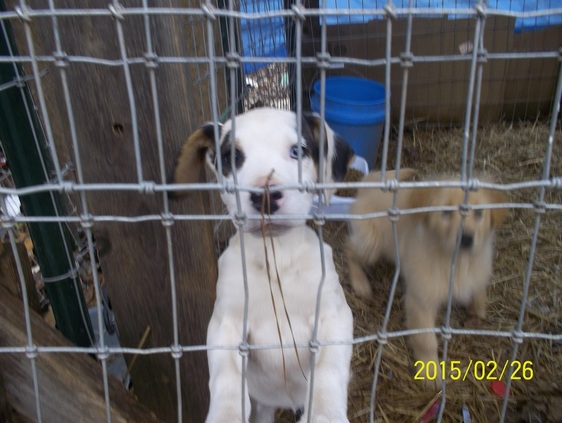 Just rescued two sweet 8 week old puppies 2-26-15 that were dumped in the cold with no food...this one has one brown eye and one nlue eye...super sweet bones showing..they are safe now...
---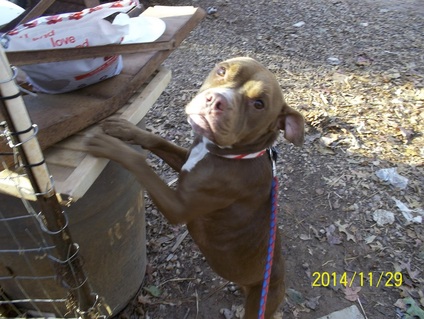 ---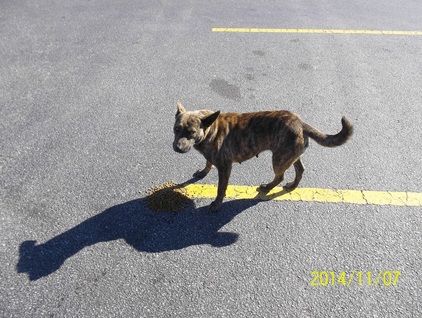 ---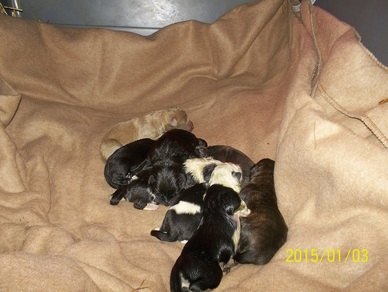 ---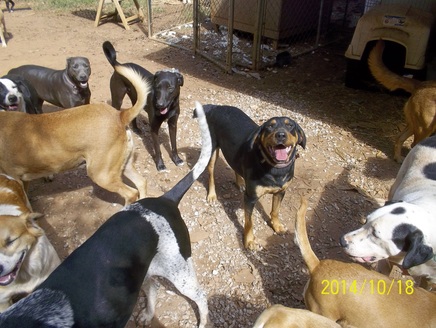 ---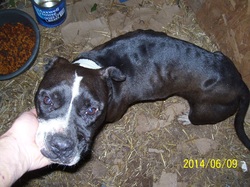 ---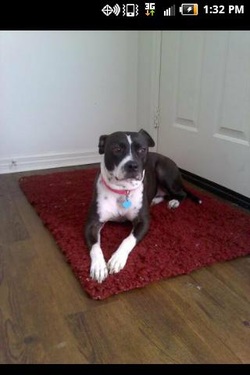 ---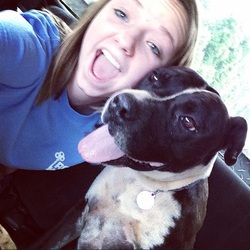 ---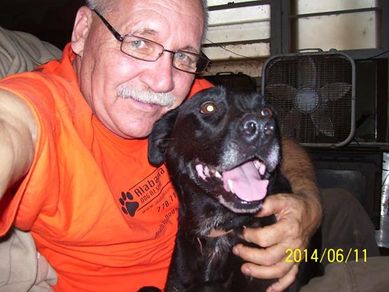 ---
---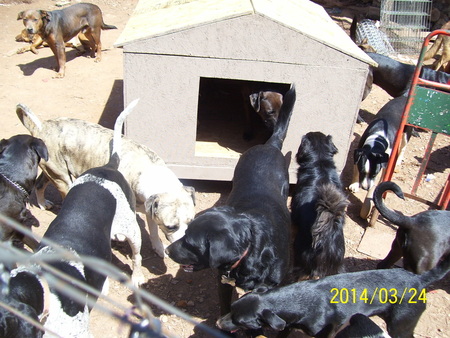 ---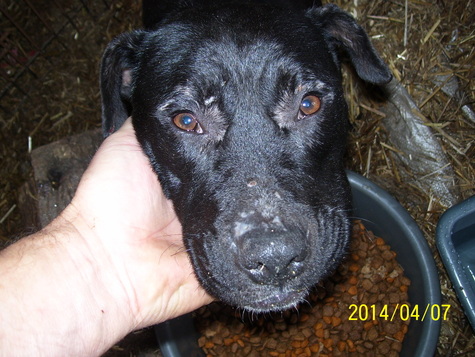 I rescued this sweet girl, Pittie mix Late March 2014 on county road 56 in Randolph County Alabama..She had been dumped, real bad shape with total recturm failure..It was hanging out her behind 3 inches...Took her to vet..after 2 times of recturm repair operations 10 days apart she is slowly getting better..Its a 50/50 chance she will live according to vet but I just have to try to save her. Next photo down from this one is what shape she was in when I rescued her...Prayers needed for her please..
---
Above is Alice after 2 operations to repair her rear end....Doing better...A very sweet girl for sure.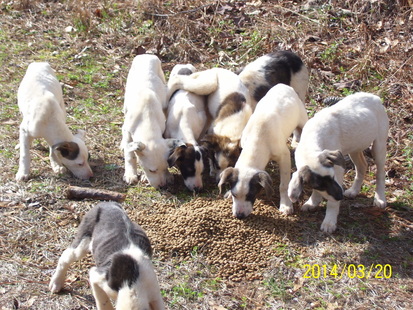 Just rescued 7 of these 12 to 14 week old Pittie pups...Found them dumped on a Rural county road bones showing in bad shape...I was able to trap and save 7 out of 14 pups there..They are wild puppies, Never had Human contact and is so scared of Humans.....I am working every day to gain their trust...Photo below is them snug in a kennel inside the doghouse with a heat lamp...Wormed them 2 times so far and hoping to rescue the other 9 soon...I left the other 9 pups 50 lbs dog food and a man close is also trying to feed them until I can return.
---
This Old Girl Blue Tick was rescued 11-29-13 by a fireman here. He brought her to me in bad shape, she was dumped , eating trash and had a large tumor on her hip that had burst. I took her in trying to save her. The vet wanted to PTS but I think she deserves a chance. As of 12-5-13 shes still hanging in there, not in pain. Until she stops eating, drinking and is in pain, then I will PTS. Such a sweet old girl about 10 years old. Humans can be so un-caring . At lease she knows/feels human love before its her time.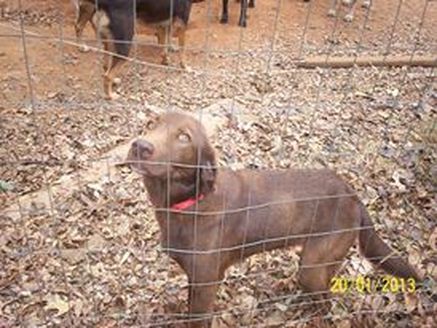 Just look at Hersey Girl now, Spay, UTD shots and ready for a loving furever home with kids. Such a good girl.
---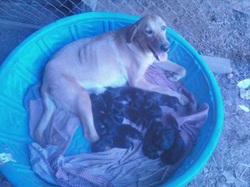 The Mom Dog I named Goldie had a Earth mom that loved her so much...Earth mon died and stupid kids came and locked the house leaving Goldie to fin for herself....My son lived near by and Goldie would come by to eat...She had 12 puppies in the woods next to his house,,, Son Justin called me and I went to rescue Goldie and her pups...6 survived and 5 were sent to New England along with Goldie, to great homes, One adopter keeps me updated on one of the pups she named Spirit,,,Below is Spirit at his furevere home way up north...Goldie and her pups were all super sweet.
---
Listed on Adoption Page .Lance on Ride Home fro being rescued from Griffin Pound.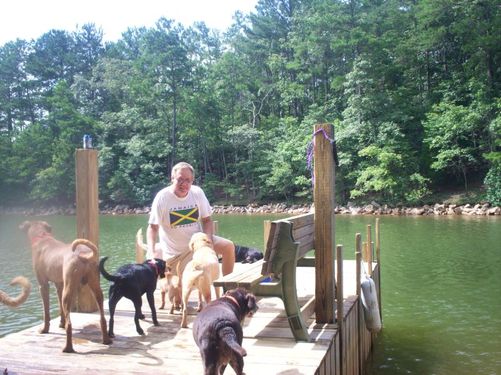 A day at the lake
---
This is Jake, rescued from Barnesville Ga Pound...
Photo above Lila, Angel her pups and Step mom Pepper helped in nursing, Bottom photo Sweet little Kattie, found dumped 2 years ago behind a local Wal-Mart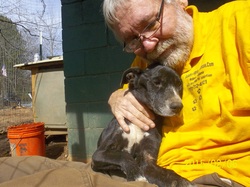 ---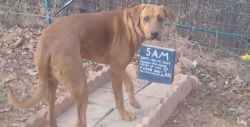 Dogs Have Feelings: Charlie on Brother's Sams Grave, missing him
---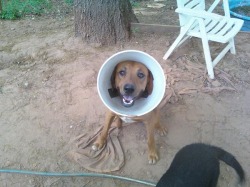 Meet "Bucket Head Charlie!!" Neuitered, to keep from pulling stiches out.
---
Just rescued From Spalding/Griffin Pound..8-2-2010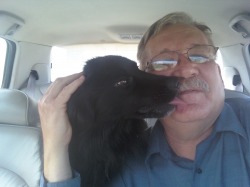 ---
Named Him.. Bo,, From Jasper County Death Row...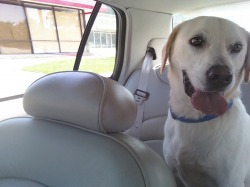 On the way home from Jasper County Shelter..." He's saying " I'm Out of There"
---
My Rescue Dogs are so smart they take Driving Lessons..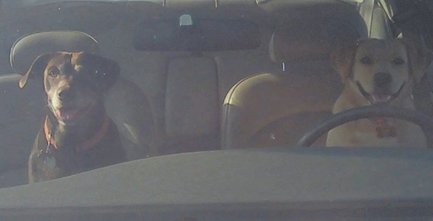 Molly and Grace...Both Rescue Molly age 14 Grace is 10..Wonderful Dogs.....Dogs Rule !!!
---
My Pack Playing in back Yard August 2010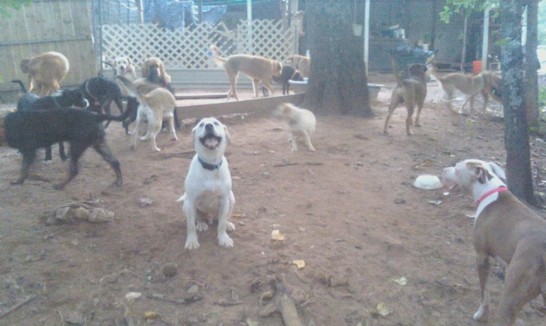 Just about half of my pack of wonderful fur babby's playing..All rescued death row dogs..They somehow just know you had saved them and are forever greatfull....Its truly a Blessing from God to be able to bond with each of these sweet souls....God Bless all of you who save just one.....
---
Meet "Chris" 11 Years Old Rescue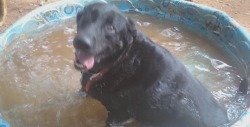 ---
Up Date Old Man Chris RIP Oct 24, 2010.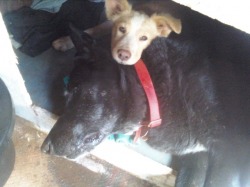 ---
New Rescue from Franklin Ga Death Row..11-18-2010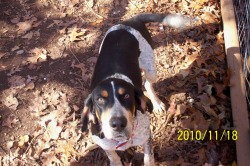 Meet Clyde the Hound...he is Neutered, extra sweet and loves all people and dogs...Already given him 7 n 1 Parvo shot/heart worm and safeguard for worms...He was someones pet so he is ready for adoption.....I love to hear this guy bark/houl.....a real happy dog...
---
Hey, Even Dogs Love A Campfire on A Cold Day !!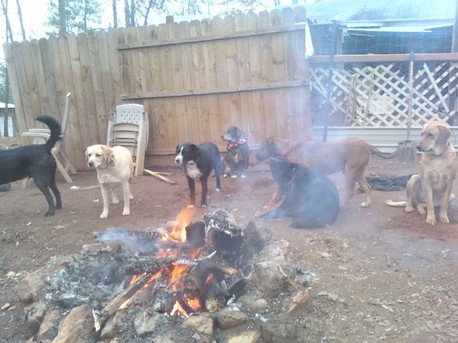 ---
Meet Lila 2 Rescued From Death Row 3-16-2011 Adopted///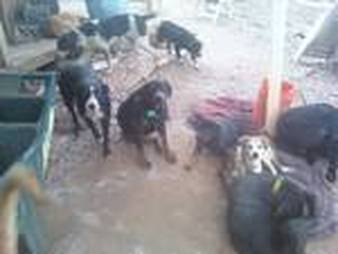 Sweet Sally on left RIP,,,Lila on right was adopted to a great loving family with children...
---
This is Old Man Willie, Age 8 to 9 a Bulldog Mix/Returned to owner, has Cong Heart Failure, Good Luck Willie, God Bless you....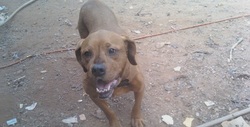 Willie was dumped by his owners after giving them 8 to 9 years of love. They moved and left him tied to a tree. He was saved by a nice Lady in Ga and she transoported him to my rescue in ALabama on March 20, 2011. He is Nutered, all shots and loves people and all dogs. No cats. He needs a forever loving home that can give him the love he deserves. A real super sweet dog with a little puppy left in him wanting to play some. Please consider adopting this sweet old man. You will not be sorry you did.
---
Having Fun Chasing Bumble Bees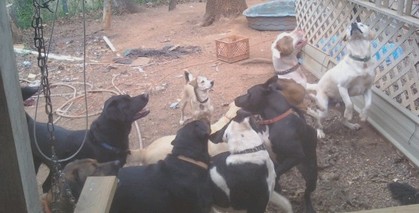 Just a few of my wonderful dogs having fun together trying to catch a Bumble Bee. I really am lucky to have such great dogs.
---
New Rescue 3-1-2011 A 10 week old Pitty Girl..ADOPTED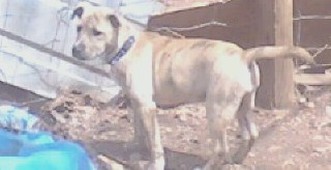 A nice lady found this sweet girl dumped in the woods in Georgia covered with ticks and fleas. Starving. After a week and no room for her, the lady contacted me and I took her in my rescue in Alabama. The Little girl is super smart, very trusting and just loves all dogs. Only 15 lbs. A Brindle tiger stripe color. A good Girl for sure. April was adopted by a wonderful family with 2 dogs...She is a happy camper there and is doing Great.......
---
Meet Ralfy Pup, Rescued fro Death Row April 2011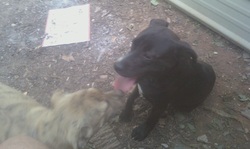 Ralfy was rescued from death row from Heard/Franklin Ga pound. He is a small dog only about 30 lbs and some worthless Human cut his tail off when he was a young pup. He is only around 5 months old but is super sweet and wags is little stubble of a tail all the time. he loves the Baby pool and loves all my 32 dogs. He came out of his shell in only hours after arriving at my rescue. He thinks he's in doggy heaven, with 2 acres all fenced in to run and play. He learned how to use the doggy door in just one day. Kisses all the time would make a wonderful pet for any one. You would be lucky to have this guy.
---
Meet New Rescue JAKE2 from Death Row Franklin Pound.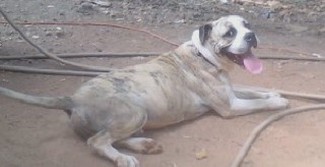 I went to Franklin Ga Pound to rescue a White Pitty boy but after I got there, this guy a Bull Mass mix just begged me to save him. He just sang/barked and wagged his tail so hard I thought it was going to break. He is a super sweet guy and after inspecting him, he was already neutered. I believe this guy just got lost, his neuter was recent. He smiles all the time and gets along with all my dogs. He would make a wonderful pet for anyone. I gave him a Parvo/7 n 1 shot and heart worm meds as soon as he arrived at my rescue. 5/26/2011
---
Meet Coon Hound JEB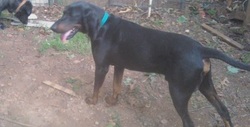 Jeb was rescued via/owner surrender from a retired school teacher and his wife. He is 4 years old, the people had him since he was 4 months old. He is a Blk/tan coon hound breed and is super sweet. His owners are moving to a condo in Florida and there was a 45 lb limit on dogs and Jeb is at 80 lbs. I rescued him on June 26th 2011 and he was so scared and would not come out of his kennel. The next day he came out and is a happy dog playing with all 32 dogs at my rescue. I already found him a forever home with one of my friends who loves dogs. He will be at his forever home in a week or two when a fence is put up by my friend........
---
New Rescue Puppies Dumped in woods to die.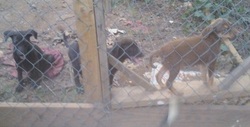 Last sunday 7-18-2011 I found 3, 8 week old Choc Lab mixed pups in the woods next to my rescue. They were dumped to fend of their on. They were scared at first but after I put them in a large safe kennel with food and water they were fine in couple of hours. I wormed them and will give em a Parvo/7 n 1 shot in a week or so when they get stronger. I let my dogs in to play with them several times a day a couple at a time and they have so much fun playing with each other.. Real sweet pups and would make someone a wonderful forever friend.......I thank Father above for letting me help save them.....
---
Meet Sweet little Rosco,,,Found on Roadway Dumped to Die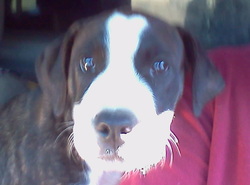 On Wednesday Oct, 5, 2011 I found this guy just standing next to a patch of woods on a dirt road on the Georgia /Alabama line. I stopped and called him and he came running....His bones were showing and he was starving. My rescue dogs pack of 36 accepted this pup right away and welcomed him right away.. He is about 7 weeks old and super smart and super sweet. He trusted me right away and acted as if he knew me. I am thinking about making him one of my personal dogs and not adopt him out....He used the doggy door to my home on the 1st day and is a very happy little fellow.....
---
Found this pup 10 weeks old and his Mom Thanksgiving day(2011) on way back from my sons house . Mom was starving, bones showing, Both are bull Dog Mix.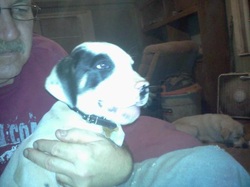 I named the Pup " Duffy" and still working on name for mom lol. Both are super sweet, mom is getting stronger every day. Both will be ready for adoption as soon as they get strong enough.
---
Found in pouring rain/cold in Bad shape 2-1-2012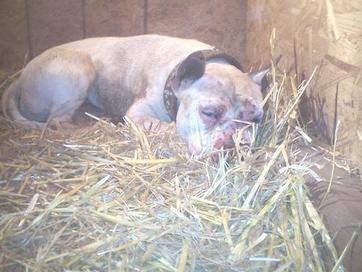 I found this sweet old guy about 12 years old, a Pitty on a dirt road. He was in bad shape, it was raining, cold and when I stopped to give this old guy some food and opened the tail gate to my truck, he jumped in and was ready to get out of there. His face was all red with infection from cuts and scratches, looked like a old gun shot wound on his back. A full blood pitty. He looked like a former fighting dog....He seemed to be real sweet.........He recovered in about 5 days but I suspect he is on his last months due to his heavy/fast breathing. Giving him meds for that to ease it.....He will be loved and cared for here until its his time....
---
Meet Sweet Carrie. Rescued from Walton Co Ga 3-22-2012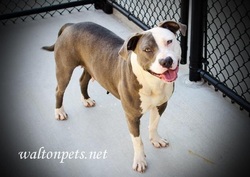 ---
Meet Very Preg. "Angie"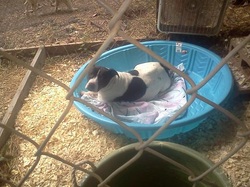 Angie is from my local shelter. They called me and asked me if I would take this sweet girl so she would not have to Be PTS. The shelter has no place for her to have her pups. SHe fit right in with my pack....After the Pups are born and about 8 weeks old, the shelter will help find them homes..Kinda looking forward to seeing the baby pups, they will be born any day now..
---
Rescue Pittie Mix Pups 4020-2012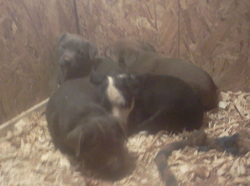 My son called me while working const. on a new home. There was a Momma Pit Bull with 4 eight week old pups under the house where he was working. The momma Pit was very protective of her pups so she growled at the owners wife. Momma was a stray, dumped coz she was about to have pups. With my sons help, we were able to rescue the puppies without getting bit by the mom...But the pups had never been close to humans so one bit me lol....Finally at 6am the next morning, the pups started to trust and are starting to play like puppies are suppose to....One pup is solid grey, with white spot on chest and has BLUE eyes........Gods Grace........
---
New Rottie Rescue 6-5-2012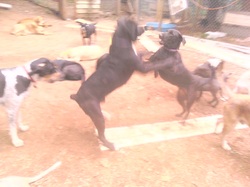 ---